Our teachers are caring and creative, challenging every student to achieve their best.
The staff at St Monica's are passionate and committed to learning and sharing this with their students everyday.
Our skilled staff tailor the learning to suit the individual needs of students, and are lifelong learners themselves, taking part in regular professional learning to keep up to date with the latest advances in education. Our teachers ensure they get to know every student and plan their learning journey to best suit the way they learn. Our students benefit from the skills and knowledge of specialist teachers in Music, Drama, Sport and Italian.
If you wish to speak with a member of staff please contact the school on 02 4570 3700 weekdays between 8:30am to 3:30pm or use our contact form.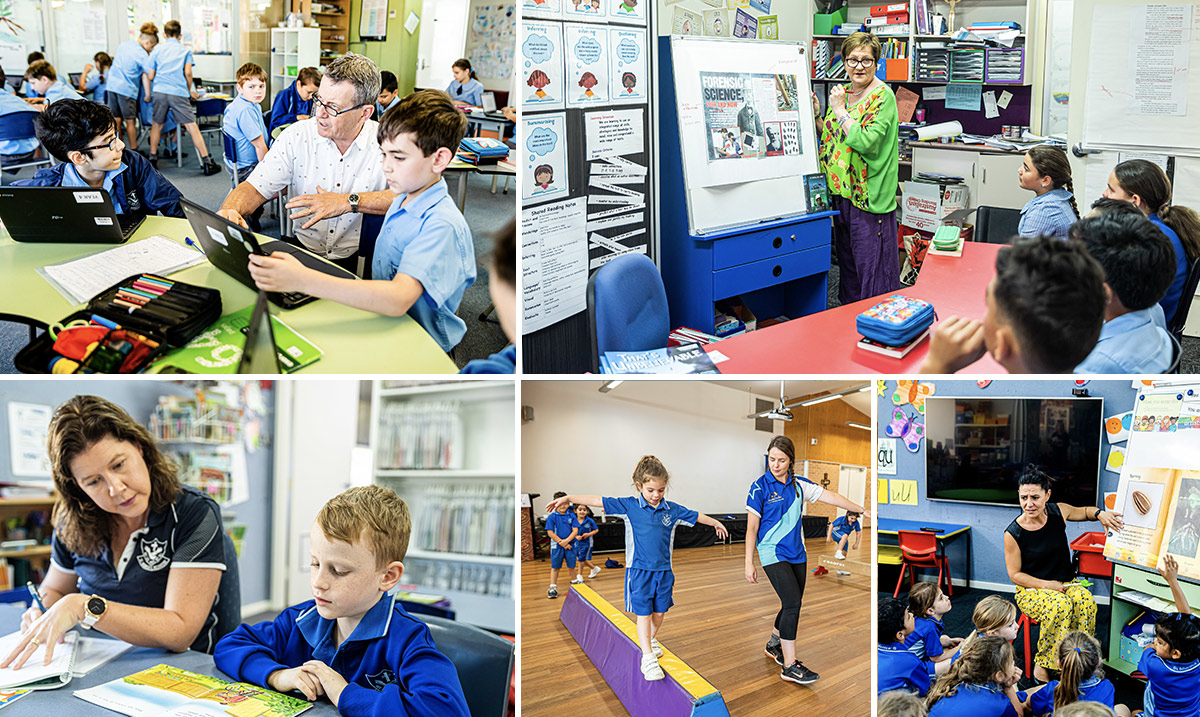 Leadership
| | |
| --- | --- |
| Principal | Mrs Melissa Beggs |
| Assistant Principal | Mrs Annemarie Bond |
| RE Coordinator | Mrs Leanne Ryan |
| Leader of Learning | Miss Judy Gray |
| Instructional Leader (Literacy LEad Teacher) | Mrs Christina Soliman |
Teaching Staff
Early Stage 1

Mrs Lauren Sultana
Miss Clara McHarg

Stage 1

Mrs Teresa Valenti
Mrs Danielle Egan
Mrs Sue Pols

Stage 2

Mrs Allyson Reimer
Mrs Pauline Kojic
Mrs Carolyn Viera

Stage 3

Miss Judy Gray
Mrs Josie Malvagna

Diversity Team Leader


Mrs Natalie Colburt

Diversity Team

Mrs Ainsley McNicol (Stage 1)
Mrs Helen Harper (Stage 2)
Mr Mark Feneley (Stage 3)
Mrs Bridget Gerecs
Mr Nicholas Pearce

Reading Recovery

Mrs Ainsley McNicol
Mrs Teresa Valenti

EMU Specialist Teacher

Mrs Annemarie Bond

R3 Reading Support

Mrs Leanne Ryan

Teacher Assistants

Mrs Therese Bradley
Miss Vanessa Craven

Creative Arts Teacher (RFF)
Mrs Maria Famularo
PE / Italian Teacher (RFF)
Mrs Karen Buccini

School Counselor
Mrs Nina Mather
Finance Secretary
Mrs Cheryl Bolton
Secretary

Mrs Alba Kernahan
Mrs Vanessa Bonadio

Canteen Supervisor
Mrs Anna D'Ambros
Maintenance / Grounds
Mr Terry Munsey

Are you a dedicated, passionate teacher?
Join our supportive learning community TODAY!