St Monica's is a Kindergarten – Year 6 two-stream primary school that serves the Hawkesbury region and currently has 259 students enrolled.
Our Mission and Vision
St Monica's is a Catholic Primary School committed to excellence in teaching and learning. The student is the focus of everything we do and we believe in educating children to be active members of a changing society. Together, we live our Catholic faith through building a personal relationship with God as well as a partnership with family and Parish, by teaching Catholic values and celebrating the events of our faith throughout the year.
We recognise and respect the roles of parents/guardians as the first educators, as well as the diversity of families and changing needs of family lifestyles.Together as a school community, we value and promote the uniqueness of each individual with an emphasis on respect for oneself and others, focusing on the involvement of children, parents and staff with an openness to change and a love of learning.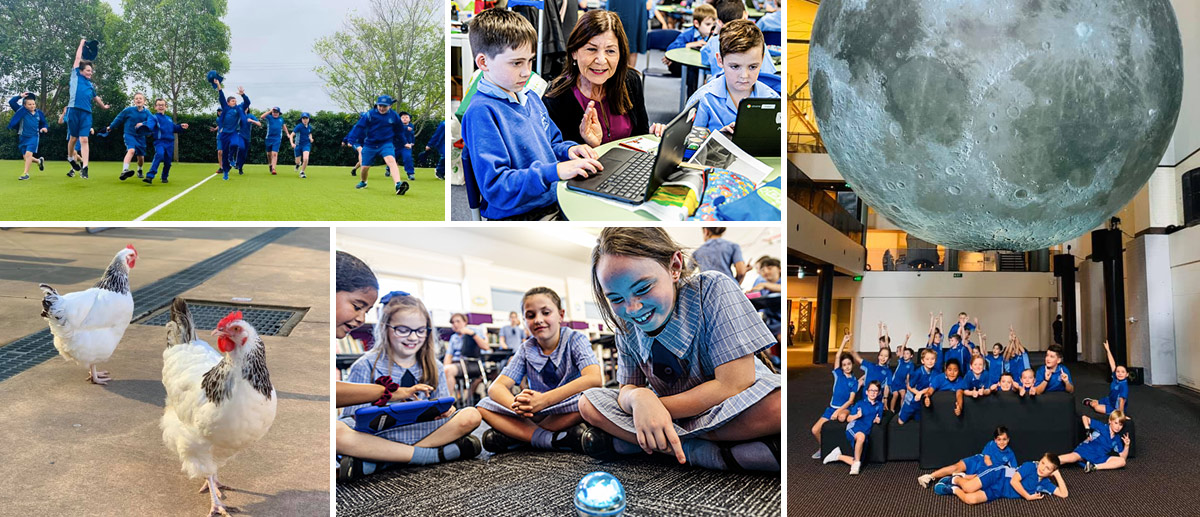 Our History
St Monica's School is one of the oldest Catholic learning communities in New South Wales, being established in 1859 by Archbishop Polding. Our patron, St Monica, is a patron of mothers and womanhood. Her love of God and family is a love that we strive to live out in our school.
The learning spaces at our school have seen many changes over their long history and are a testament to our school's commitment to staying relevant and offering the very best environment for learning. We continue to offer the latest technological tools and resources to enhance learning.
---
1919: The First Communion Group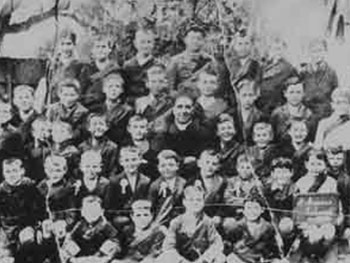 In 1848 Reverend J.J. Therry, from Windsor, suggested to Archbishop Polding that a church and school be erected. On January 3, 1859 Archbishop Polding laid the foundation stone of the church and what was to lead to the foundation of St Monica's School. The church was used as a school during this period but no records of the teachers, nor the children have been found.
In 1863 a Catholic teacher, Mrs Doyle, was appointed by the State Government to take over the responsibility of educating the children. Mrs Doyle had the help of Marie Purcell until both were transferred in 1873 and the Good Samaritans, from Windsor, were asked to take over the teaching role.
---
Date Unknown: An Early Photo Of The Children And Nuns...
By 1877 Richmond Parish had grown to quite a considerable number so Reverend P. Cassidy was appointed as Richmond's first Parish Priest but was succeeded by Dean D.M. O'Connell in 1878 who immediately built a Convent and school. The Convent was a one-storey, four roomed cottage.
An additional weatherboard school was built adjoining the Convent. It was divided by folding doors into primary and secondary school, with 65 primary and 20 high school students. Included above the high school portion was a dormitory for boarders, who, believe it or not, came from Sydney mostly, to the country for their schooling!
---
1950: The Poor Clare Nuns 1950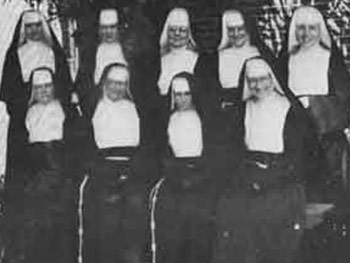 After a few upgrades and add-ons a boys boarding school was opened in 1900 with Father O'Brien and Mother Clancy as the religious personnel. From then on the school progressed and was officially blessed on March 22, 1921 as St Monica's School by the Archbishop of Sydney. The Good Samaritan's handed over the school to the Poor Clare Nuns in 1943.
Back row: Sister M. Imelda, Sister M. Francis, Sister M. Magdalen, Sister M. Carmel and Sister M. Angela and Front row: Sister Margaret Mary, Mother Xavier, Mother Veronica and Sister M. Brigid.
---
1959: The School And The Convent Where The Sisters Lived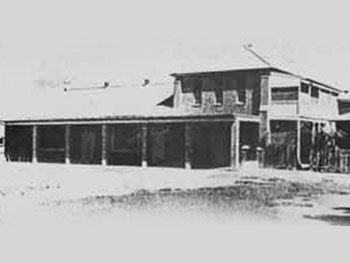 As the years went by the school was growing larger and the buildings were getting older and weaker - a new building was required. In 1960 Father O'Rourke arranged that a building be erected against the Bourke Street fence between the Church and the Presbytery.
This building consisted of three classrooms and two storerooms. It was blessed and opened by the Most Reverend James Carrol on April 24, 1960.
---
1970: St Monica's Float In Bi-Centenary Celebration Of Captain Cook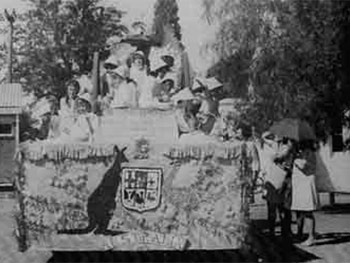 St Monica's float which was part of the parade from Windsor to Richmond to celebrate the Bi-Centenary of Captain Cook in 1970.
Sister Aileen and many other willing helpers spent many hours preparing the float.
---
1970: This Same Float Won The Historical Section Of The Parade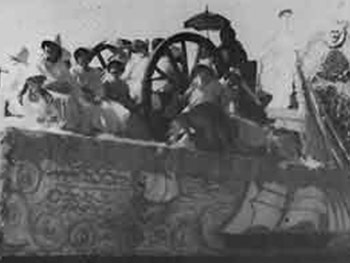 It was called "The Women of the West - Caroline Chisholm".
At the end of the Parade a time capsule was placed in Windsor Park - to be opened in 100 years time!
---
1979: Extensions To The Infants Block (Stage 1)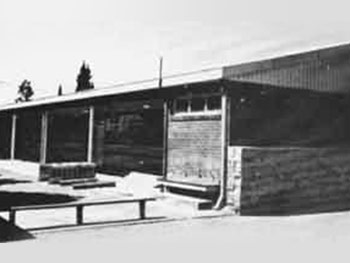 Times were changing. In 1971 Mr O'Donohue was appointed as the first lay Principal of St Monica's.
In 1973 some of the biggest changes in the school's appearance were made as a brand new administration building and toilets were erected behind the Presbytery and a 5-roomed classroom block was built behind the Convent. Four of those rooms were used as classrooms whilst the fifth was a library.
---
1979: Extensions To The Infants Block (Stage 2)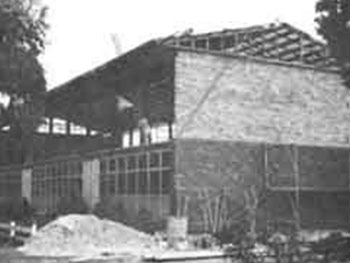 In 1976 Mr Ian Jordan, was appointed principal of St Monica's and more building programs were started including the erection of two demountables and three more rooms on top of the then infant block.
In 1978 another demountable was added and in 1979 another three classrooms, a toilet block and storerooms were added to the then infant block.
---
1979: Extensions To The Infants Block (Stage 3)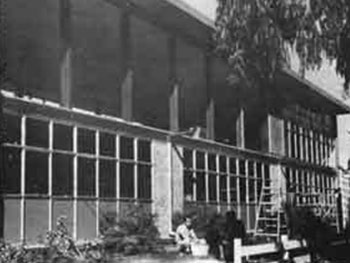 That colourful mural facing the infants playground was painted to brighten up the area in 1980. This work was carried out by Mrs Christine Blundell, with targets to throw balls at and animals to name and look at.
The two stream system was introduced in 1983 with the addition of another demountable. This was the year that the new church was opened.
---
Mrs Christine Blundell Painting The Colourful Mural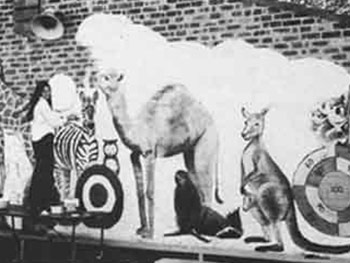 In this photo, Mrs Christine Blundell can be seen painting the colourful mural which was facing the infants playground. Mrs Blundell spent days creating the mural, painting targets for balls as well as animals and plants for students to name.
---
Date Unknown: The Sisters With Their First Car!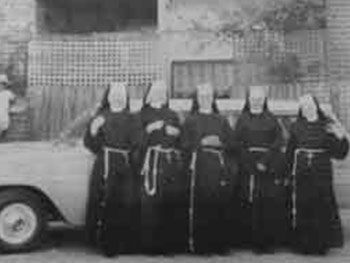 The sisters can be seen with their very first car, while the date of this image is unknown, we believe it may be an EH Holden!
---
1983: Little Miss Gray In Her Earlier Days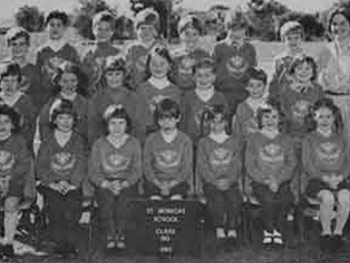 In this photo, Little Miss Gray can be seen in her earlier days during 1983!
We've been providing quality Catholic education for over 160 years
Contact us today to find out how to enrol!