St Monica's student wins hearts with touching ANZAC speech
25 May 2018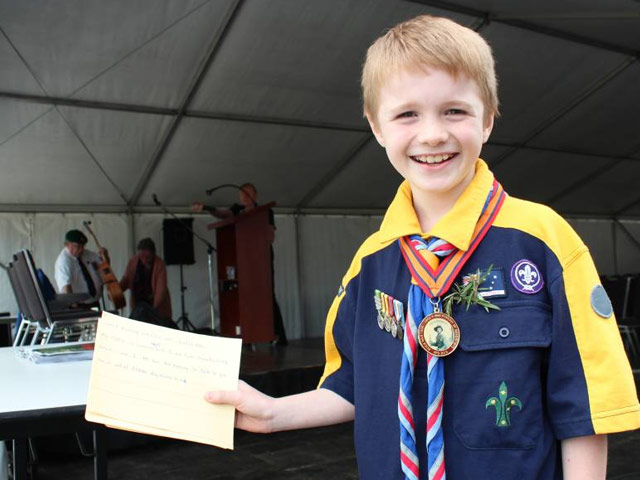 Anzac spirit: Nine-year-old Lawson Doyle with the copy of his neatly handwritten speech after the service.
"The Anzac spirit lives within all of us. If you're scared to present a speech in front of the class, use the Anzac spirit like the Anzacs did to dig trenches to sleep in, and to fight when they were hungry and thirsty."
Nine-year-old Lawson Doyle of 1st Hawkesbury Scouts himself embodied the Anzac spirit as he won the hearts of all those present at Richmond Club's Anzac Day service, with a stirring speech about what Anzac Day meant to him.
Lawson was the last of six local schoolchildren presenting short speeches at the service, but almost got overlooked when Richmond Club Group Vice Chairman Garry Watterson thought they had all spoken.
But Lawson – decked out neatly in his Scout uniform with his uncle's medals hanging on the right side of his chest – bravely put his hand up, stepped forward, and borrowed a chair to see over the lectern.
"I am sad all those men and women died at war, but I am happy we commemorate this day so we can remember all those people that died at war," he told the service, referring to the speech cards filled with neatly handwritten notes he had accidentally dropped after climbing up the chair.
"The Anzac spirit shows us strength, bravery and courage."
Lawson told the story of his uncle, a Special Forces soldier who has served in East Timor, the second Gulf War, and Afghanistan.
"He puts his life on the line so we can have a better life and I love him for that," Lawson said. "As I grow to be a man I will do all I can to honour the memory of all who have served our great nation, Australia."
Lawson received a rousing round of applause as he climbed off his chair, and said after the service ended that the speech had taken him "ages" to write.
---
Read the full article online from the Hawksbury Gazette